Monitoring of TV and radio programs at the local head-end stations
Monitoring of TV and radio programs at the local head-end stations
Customer: A branch office of RTRN "Krasnodar RTRN"
A local branch office of the "Russian TV and Radiobroadcasting Network" (RTRN). The major operator of digital and analog TV and radio broadcasting at Krasnodar Krai, which offers a wide range of network services: provides digital and analog TV and radio signal delivery, fosters the development of mobile phone services and ensures communication activities of state administration structures.
TASK
Monitoring of TV and radio programs delivered to cable operators at the local head-end stations. Integration into the existing monitoring system (NMS) for timely notifying operating staff in case any emergency situation occurs.
SOLUTION
Deployment of a distributed monitoring system based on a central local server Elecard Boro and the software probes. Integration of the monitoring system into NMS.
RESULT
Timely and detailed notifications about problem/malfunction
Analyzing data from monitoring history and detection of recurring problems
Improved quality of the broadcasting services
Possibility to quickly change the configuration of the monitoring system
Flexibility and scalability of the technical solution
SOLUTION IMPLEMENTATION
Installation of one central local server and probes at every head-end station. The operating staff monitors the state of the controlled streams using Boro web-interface, meanwhile the stream statistics is registered in NMS.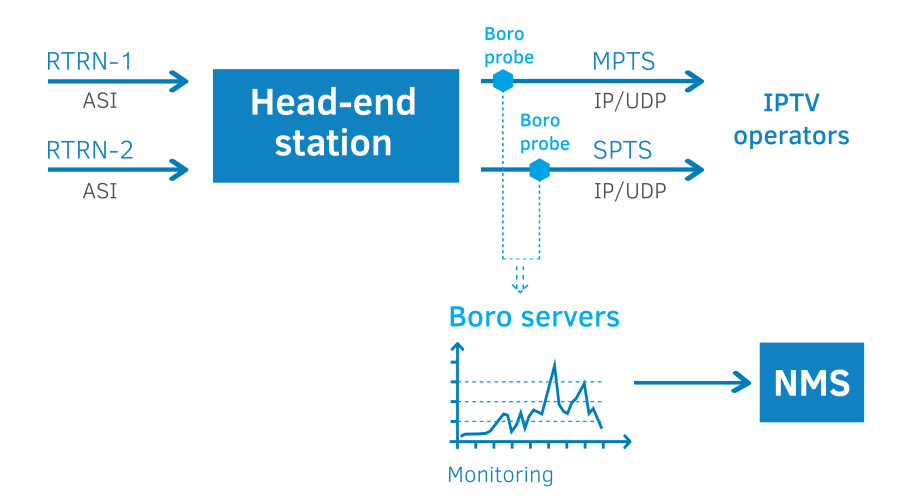 Feedback
"Elecard Boro is a very interesting solution which enables building a monitoring network based on a client's software with a possibility of integration into third-party NMS. A solution stands out for its flexibility as it allows to easily change the configuration of a monitoring system and to transform a regular laptop into a monitoring tool. It is important that transport streams' analysis is carried out not only on the recommendation of TR101290 and using MDI (RFC 4445) method but also using specific customconfigured evaluation algorithms. It ensures the accurate estimation of the broadcasting quality and makes it possible to take timely measures to improve it."

Eugeny Dmitriev, Chief Engineer, Communication Department