SDKs
GStreamer Codec SDK
Software development kit intended to enable programmers to develop digital video streaming and playback applications using Elecard components within the GStreamer® technology
ANY CONFIGURATION & COMPLEXITY
Create Linux or Windows application of any scale for highly specific tasks using Elecard components
QUICK START
Use full version of SDK and license components after your application is ready for deployment
FAST DEVELOPMENT PROCESS
Source code of sample components help to develop your application really fast
SUPPORT
Having trouble developing your application? Our support is here to help you!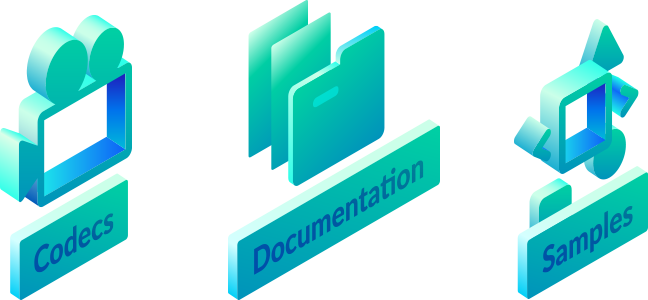 Powerful toolkit
Elecard Gstreamer Codec SDK package comprises: codecs, documentation and sample applications. Samples include decoding and network solutions that demonstrate how to use and configure different Elecard components that come along with SDK, such as Elecard MPEG-2, AVC, HEVC codecs; network components and other filters.
Sample Applications

Simple Player

Plays local media files. The program decodes only one video and one audio streams that are detected first.

Network Server

Applications for receiving the stream from file, multiplexing it and encoding into MPEG-2, AVC/H.264, HEVC/H.265 video formats and AAC, MPEG Audio formats.

Network

Server

Transcoder

Demonstrates transcoding, multiplexing and broadcasting media data to the network. It is capable of sending RTP, UDP packets. This sample illustrates use of Elecard AVC Video Encoder, Elecard MPEG Multiplexer and Elecard Network Sink plugins.

Network Player

Plays media streams from the network and allows saving of the received media data to a data storage. The program saves the whole stream, but decodes only one video and one audio streams that are detected first.
Components
Elecard GStreamer® components delivered with Elecard GStreamer Codec SDK include components for R&D purposes only. Each of them can be licensed further for commercial usage. The components are presented in 32-bit and 64-bit versions.
See full list of Elecard GStreamer Codec SDK components

Key Features
EASY INTEGRATION.
Elecard components can be easily incorporated into your application as we provide source codes of sample applications, detailed documentation, API with header files.
MULTI-PLATFORM AND MULTI-FORMAT.
The full set of decoding, encoding, muxing and streaming components by one vendor available on the market. MPEG-2\AVC\HEVC, MP4\TS, UDP\RTP\HLS. If you are looking for components for Windows DirectShow, Ubuntu, Android, OS X, iOS check the other Elecard SDKs
ONGOING ENHANCEMENTS AND TECHNICAL SUPPORT.
One month of Professional support is granted for free with the SDK purchase. Check the version history to see what's new in each release.
Software and Hardware specifications
Hardware Requirements
SSE-enhanced CPU (Intel® Pentium III, Celeron, AMD® Athlon, Opteron, etc.)
1 GB RAM
Any VGA card
Software Requirements
Ubuntu 16.04 x86_64, GStreamer 1.0 (version 1.8.2)
CentOS 7.2 x86_64, GStreamer 1.0 (version 1.4.5)
Windows x64, GStreamer 1.0 (version 1.8.3)
Support programs
A Full version of Elecard GStreamer Codec SDK includes a 1-month period of Elecard Professional support program and updates for the filters and components within one major version. Additional assistance and a year of updates and upgrades for the SDK Full version (including documentation and sample applications updates) can be purchased as a yearly subscription for Elecard support programs.
See what SDK technical support

includes
Licensing
Components in the SDKs are intended for R&D purposes only and cannot be used for redistribution. The filters in the SDK Full version are in demo mode that means they have the only restriction: logo on video.
See the difference between Demo and Full versions
When the R&D phase is finished and the product is ready for commercial redistribution, you should contact Elecard Sales Department to purchase any Elecard Codec Pack you need.
Contact us to license Elecard Codec Pack
Related products
Software development kit intended to enable programmers to develop digital video encoding and playback applications (encoders, players, streamers) using Elecard components within the Microsoft® DirectShow® technology. Intel® Quick Sync video technology is supported.
Enables programmers to use Elecard components within the Microsoft® DirectShow® technology for development of multimedia applications on Microsoft .NET Framework.
Set of software components for developing video playback applications.
Special package of DirectShow filters and program samples that allow to efficiently resize, convert and correct colors, transform aspect ratio, deinterlace, convert framerate and perform other transformation of video
News & Events
Try our updated DirectShow Codec .NET SDK 3.2.1 and GStreamer Codec SDK 1.3 and make sure that even with a different name the quality and efficiency of our SDKs remain inevitably high.
Elecard team knows for sure – the time to celebrate means the time to share.
Our Customers
We are proud to be bringing our multimedia technologies knowledge and expertise to more than 9K companies in the world.