Elecard StreamEye Studio is a set of powerful software tools for video quality analysis designed for professional use in video compression, processing, communication and streaming media industries

IN-DEPTH ANALYSIS
Comprehensive detailed analysis of numerous video parameters
WIDE RANGE OF SUPPORTED FORMATS
Support of most popular and in-demand video formats
ULTRA HD, HDR SUPPORT
Analysis of video files without resolution limitations
ONGOING ENHANCEMENTS AND TECHNICAL SUPPORT
Timely expert assistance to make your work easy
Elecard

StreamEye Studio product line

Elecard StreamEye Studio includes 5 separate stand-alone applications and command line tools for all-around video analysis.
Key Features
Analysis from stream structure down to macroblock/coding tree unit/superblock
Calculation of video quality metrics (PSNR, EPSNR, SSIM, DELTA, MSE, MSAD, VQM, NQI, VMAF and VMAF phone, VIF)
Standard compliance verification
Automation, batch execution via Command Line Interface
Sharing comments between application instances and/or applications of Elecard StreamEye Studio set
Synchronization between applications of Elecard StreamEye Studio set (Binding mode)
Side-by-side comparison of two or more video streams
Must-have product for professionals
SW Developers and SoC Designers

Development and debugging of software and hard-
ware encoders

QA Engineers

Fast and accurate check for errors in video codecs

Technical support Engineers

Easy spot of problems in the video bitstream

Professors & students

Visualisation of video encoding techniques

Broadcasters

Detailed comparison and easy choice of the best en-
coder
Software and Hardware specifications
Supported formats
MPEG 1/2 Video stream
AVC/H.264 Video stream
HEVC/H.265 Video stream
VP9 Video stream
AV1 Video stream
VVC/H.266 Video stream
AVS3 Video strem
System Stream MPEG-1
Transport Stream MPEG-2
Program Stream MPEG-2
MP4,MOV file containers
MKV, WebM file containers
AVI file container
FLV file container
IVF file container
MXF file container
HEIC file container
System Requirements
Hardware requirements :

• 4 GB RAM for video resolution below HD

• 8 GB RAM for HD video

• 16 GB RAM for UHD video (or higher)

Software requirements:

• Windows® 7/8/10/11 (64-bit)

• Mac OS X 10.13 High Sierra - Mac OS 12.4 Monterey

• Ubuntu 16.04, 18.04, 20.04 x64

• CentOS 7.6 x86_64
Requirements for 4K video

Follow this link to find the VVC video samples and estimate how StreamEye Studio tools work with it.
Related products
Analysis of the stream structure and down to macroblock structure for inspection of codec parameters. Video quality test software.
Professional video analysis tool designed to view YUV data sequence, compare files and view the result of comparison.
Elecard Stream Analyzer is a professional tool for syntax analysis of encoded media streams and transport stream validation
Video Quality measurement tool designed to compare quality of encoded streams based on objective metrics, such as PSNR, APSNR, SSIM, DELTA, MSE, MSAD, VQM, NQI, VMAF and VMAF phone, VIF.
Effective comparison of several video sequences encoded with various settings: resolution, framerate or encoded with different codecs. Subjective quality estimation for each file with graphical quality indication. Handy tool to benchmark and ensure best quality available for the bandwidth.
Testimonial
All testimonials
Resources
Datasheet

Use Cases

Command line tool manual

Articles
Video Tutorials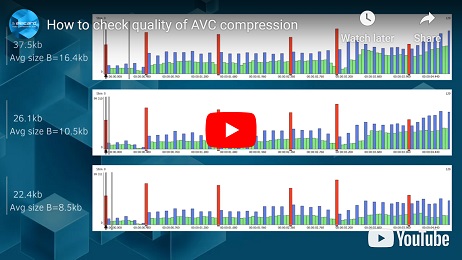 How to check quality of AVC compression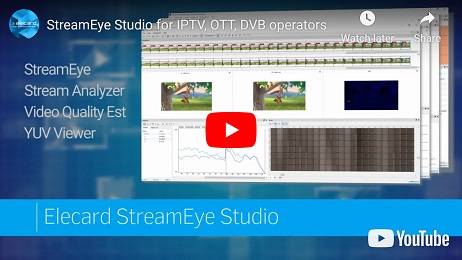 StreamEye Studio for IPTV, OTT, DVB operators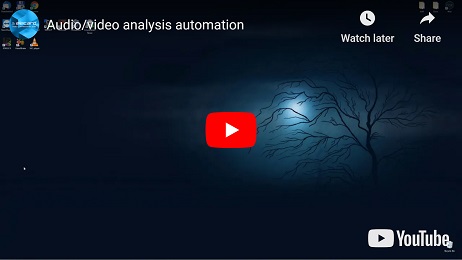 Audio/video analysis automation
News & Events
Meeting our clients and partners, discussing plans, and showcasing our products for transcoding, monitoring, and analysis of video streams.
Come to 5.G56 booth to meet our team and learn about our main products
Our Customers
We are proud to be bringing our multimedia technologies knowledge and expertise to more than 9K companies in the world.