Video Quality measurement tool designed to compare quality of encoded streams based on objective metrics, such as PSNR, APSNR, SSIM, DELTA, MSE, MSAD, VQM, NQI, VMAF and VMAF phone, VIF.

Compare two encoder versions
Use general streams parameters, 11 video quality metrics and visually compare frames or separate blocks of the stream
Optimize your encoder
Analyze the quality of encoded video against referenced RAW stream and identify the code portion causing the quality change
Key Features
Calculation of quality metrics: PSNR, APSNR, MSAD, MSE, SSIM, DELTA, VQM,NQI, VMAF and VMAF phone, VIF
Selection of ROI (region of interest) for metrics calculation
Display of essential statistics of encoded streams
Automatic selection of the similar first frame in two streams for analysis synchronization
Comparison of two encoded frames from different streams with a reference stream
Sharing comments between application instances and/or applications of Elecard StreamEye Studio set
Synchronization between applications of Elecard StreamEye Studio set (Binding mode)
Display of comparison results in graphs: metrics, quantizer, frame size, bit allocation etc.
Visual comparison of two encoded streams
Possibility to choose output YUV data format when saving decoded information
Bit allocation display
Automation through Command Line Interface
Saving data into CSV or text files
Video Quality Estimator is a part of StreamEye Studio

Elecard StreamEye Studio includes 5 separate stand-alone applications and command line tools for all-around video analysis.
Software and Hardware specifications
Supported video formats
MPEG 1/2 Video stream
AVC/H.264 Video stream
HEVC/H.265 Video stream
VP9 Video stream
AV1 Video stream
VVC/H.266 Video stream
AVS3 Video stream
Supported media containers
MPEG-1 System Stream
MPEG-2 Transport Stream
MPEG-2 Program Stream
MP4/MOV file containers
MKV/WebM file containers
MXF file container
AVI file container
IVF file container
FLV file container
RAW formats
I444
IYUV
NV12
NV21
P444
RGB24
RGB32
UYVY (Y422, UYNV, HDYC)
V210
V400
Y42B
YUY2 (YUNV, V422, YUYV)
YV12
YV16
YVYU
.Y4M
WIDE
I400
I422
V444
System Requirements
Windows® 7/8/10/11 (64-bit)
Mac OS 10.13 High Sierra - Mac OS 13 Ventura
Ubuntu 16.04, 18.04, 20.04, 22.04 x64
CentOS 7.6 x86_64
​
Follow this link to find the MPEG-2, AVC/H.264, HEVC/H.265, VP9, AV1, VVC/H.266, AVS3 video samples and estimate how Video Quality Estimator work with it.
Related products
Elecard StreamEye Studio is a set of powerful software tools for video quality analysis designed for professional use in video compression, processing, communication and streaming media industries
Elecard Stream Analyzer is a professional tool for syntax analysis of encoded media streams and transport stream validation
IPTV Monitoring
Software solution for UDP, RTP, HTTP, HLS, DASH and SRT streams quality control and measurement of QoS and QoE parameters in all segments of distributed networks. Live stream monitoring.
Resources
User Guide

Command line tool manual

Articles
Video Tutorials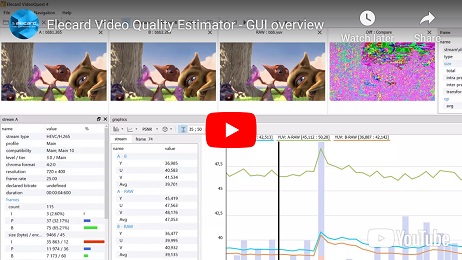 Learn more about Video Quality Estimator GUI and functionality
News & Events
Elecard offers you to try a new version of Elecard StreamEye Studio powered by MPEG-DASH MPD support which makes it easy to navigate the process of video segments' analysis
Elecard StreamEye Studio tools now support AVS3 coding standard popular in China and South East Asian countries.