Analysis of the stream structure and down to macroblock structure for inspection of codec parameters. Video quality test software.

IN-DEPTH ANALYSIS
Comprehensive detailed analysis of numerous video parameters
WIDE RANGE OF FORMATS, ULTRA HD SUPPORT
Supporting most popular and in-demand video formats and 12 video quality metrics
Basic and full versions
Choose video quality test tool or developers version
AUTOMATION
Command Line Interface for efficient laboratory routines
See the difference between product versions


Check the detailed versions' comparison, their key features and possibilities.
Key Features
Analysis from stream structure down to macroblock/coding tree unit/superblock
Calculation of video quality metrics (PSNR, APSNR, SSIM, DELTA, MSE, MSAD, VQM, NQI, VMAF and VMAF phone; EPSNR, VIF)
AV1 support (AV1 version 3.3), VVC support (VTM version 18.1), AVS3 support (HPM version 15.0)
Standard compliance verification
Analysis and display of the Decoder Video Buffer parameters
Synchronization between applications of Elecard StreamEye Studio set (Binding mode)
Sharing comments between application instances and/or applications of Elecard StreamEye Studio set
Automation, batch execution via Command line interface
Saving analytical data available via StreamEye into a text file in CSV format with a few lines of commands
Side-by-side comparison of two or more video streams
Display and saving of stream summary and picture information
Display of decoded, predicted, and unfiltered frame data (YUV or single component)
Display of residual, transform, and dequantized coefficients
Saving of decoded, predicted, unfiltered and residual information
Display of Macroblock (MPEG-1/2, AVC) / Coding Tree Unit (HEVC) / Super Block (VP9) data: location, slice index, tile index, sizes, coded, prediction, transform unit info
Navigation via chart bar
Navigation via thumbnails or area chart
Stream navigation and display in I, P, B, IP and Key Frames modes
Stream viewer – file content (header level) presentation in text mode
Hex viewer
Command line tool
Display of bitstream headers with offsets and bit size indication (as in the Standard documentation) for all standards
Visualization of slice and tile boundaries, partition, motion vectors, prediction types, bit sizes, quantizers, filters
Display of bit distribution inside video stream. Ability to choose bitstream elements to display
Display of reference frames
Display of Decoded Picture Buffer (DBP) information
Viewing of reference raw data
Visual comparison with reference raw data (Temperature, Subtraction, Compare, Block PSNR modes)
Ability to analyze a manually selected part of stream
Possibility to choose output YUV data format when saving decoded information
Possibility to display stream summary for the specified frames range
Possibility to specify time period value for bit allocation and instant bitrate recalculation
Must-have product for professionals
StreamEye: SW Developers and SoC Designers

Development and debugging of software and hard-
ware encoders

StreamEye: Professors & students

Visualization of video encoding techniques

StreamEye and StreamEye Basic: QA Engineers

Fast and accurate check for errors in video codecs

StreamEye Basic: Technical support engineers

Easy spot of problems in the video bitstream

StreamEye Basic: Broadcasters

Detailed comparison and easy choice of the best en-
coder
Stream Eye is a part of StreamEye Studio

Elecard StreamEye Studio includes 5 separate stand-alone applications and command line tools for all-around video analysis.
Software and Hardware specifications
Supported video formats
MPEG 1/2 Video stream
AVC/H.264 Video stream
HEVC/H.265 Video stream
VP9 Video stream
AV1 Video stream
VVC/H.266 Video stream
AVS3 Video stream
Supported media containers
MPEG-1 System Stream (MPEG-1/2)
MPEG-2 Transport Stream (MPEG-1/2, AVC, HEVC, VVC, AVS3)
MPEG-2 Program Stream (MPEG-1/2, AVC, HEVC)
MP4 file container (MPEG-1/2, AVC, HEVC, VP9, AV1, VVC)
MKV file container (MPEG-1/2, AVC, HEVC, VP9, AV1, AVS3)
WebM file container based on MKV (VP9, AV1)
AVI file container (MPEG-1/2, AVC, HEVC)
MXF file container (MPEG-2, AVC)
FLV file container (AVC, HEVC)
IVF file container (VP9, AV1)
HEIC container (HEVC)
MPEG-DASH MPD (AVC, HEVC)
System Requirements
Hardware requirements :

• 4 GB RAM for video resolution below HD

• 8 GB RAM for HD video

• 16 GB RAM for UHD video (or higher)

Software requirements:

• Windows® 7/8/10/11 (64-bit)

• Mac OS 10.13 High Sierra - Mac OS 13 Ventura

• Ubuntu 16.04, 18.04, 20.04, 22.04 x64

• CentOS 7.6 x86_64
RAW formats
I422
IYUV
NV12
NV21
P444
RGB24
RGB32
UYVY (Y422, UYNV, HDYC)
V210
V400
V444
Y42B
YUY2 (YUNV, V422, YUYV)
YV12
YV16
YVYU
Follow this link to find the MPEG-2, AVC/H.264, HEVC/H.265, VP9, AV1, VVC/H.266, AVS3 video samples and estimate how StreamEye work with it.
Related products
Elecard StreamEye Studio is a set of powerful software tools for video quality analysis designed for professional use in video compression, processing, communication and streaming media industries
Video quality test software for QA, technical support, and system integration teams dealing with video compression quality assurance, encoder settings adjustment or selection of best codec.
Elecard Stream Analyzer is a professional tool for syntax analysis of encoded media streams and transport stream validation
Resources
User Guide

Datasheet

White Papers

Use Cases

Command line tool manual

Articles
Video Tutorials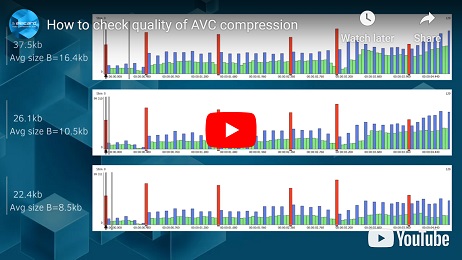 How to check quality of AVC compression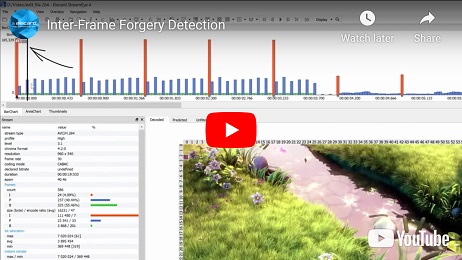 How to detect potential forgery in video fragments
Testimonial
All testimonials
News & Events
Elecard offers you to try a new version of Elecard StreamEye Studio powered by MPEG-DASH MPD support which makes it easy to navigate the process of video segments' analysis
Elecard StreamEye Studio tools now support AVS3 coding standard popular in China and South East Asian countries.
Our Customers
We are proud to be bringing our multimedia technologies knowledge and expertise to more than 9K companies in the world.