Identify malfunctioning product in OTT equipment
Identify malfunctioning product in OTT equipment
Customer: Telemedia (PTY) LTD
Telemedia provides broadcast facilities and services: studios, technical engineering, video connectivity and video service distribution over satellite and streaming platforms.
TASK
Telemedia has been providing streaming video services directly to customers and via CDNs. There were often many reports from the customers indicating that the streams were unstable. Company needed a tool to report back the stability of streams, to log any issues and find problem causes.
SOLUTION REQUIREMENTS
Streaming protocols support, specifically HLS streams.
Verification that the final output of Telemedia packager and origin server is good.
Fast and quick problem source localization: issue on the source side (origin server), the transmission network, CDN or content.
SOLUTION
Deployment of a monitoring system to spot the problem, whether it is input or output at headend; find its exact location within the network. The system consists of the local server and several probes that are utilized to check and verify outputs from OTT headend for reliable delivery to various platforms.
RESULT
Boro system ensures delivery of stable and valid output streams. If a problem is on Telemedia's side, it can be quickly found and fixed. If problems occur downstream, it is easy to validate that the cause is not in the source and suggest the ways to fix it.

Calculation of SLA uptime of the services. It is easy to notice problems and solve them, sometimes before the customers know they happened.

Remote probes help to show that problems on the clients side are normally their own network's issues.
SOLUTION IMPLEMENTATION
It took less than 2 hours once the system was installed to chase down and solve the first problem. The network set-up took less than ½ a day. The setup of the probes and GUI are very easy to understand and navigate.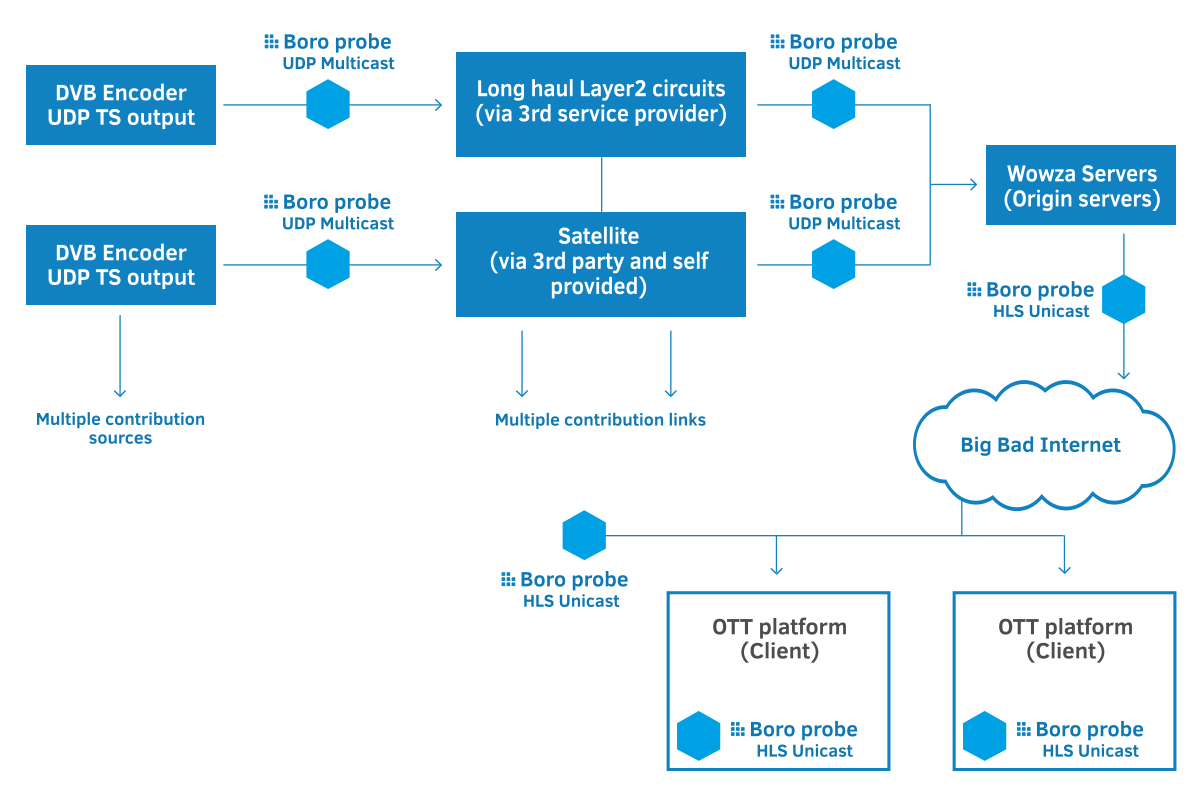 Feedback
"The Boro system demo was easy to install into my own network with no preparation required on my side. I was able to run the demo and learn functionality of the Boro system quickly. The graphical interface for Elecard Boro showed problems and the status in a fun and easy to understand way.

Once I had decided to deploy Boro within my local network, the Boro team was quick to advise me and confirm the prerequisites. The installation was performed remotely by Elecard within a few hours.

The ability to monitor using a remote probe at multiple remote locations at the same time became the main reason to choose Elecard."

Steve Bretherick, Technical Director, Telemedia