Unified solution for transcoding and monitoring
Unified solution for transcoding and monitoring
Customer: Balticom A/S
Balticom is one of the leading Telecom operators in Riga, Latvia. The company delivers services of digital and analog TV broadcasting, Internet and VoIP.
TASK
Transcoding of TV channels from MPEG-2 to AVC/H.264 video format to provide unification for all IPTV channels. Monitoring quality of input and output streams at the head-end station.
SOLUTION REQUIREMENTS
Transcoding solution:
Software-based solution enabling the customer to utilize their own hardware equipment;
Mechanism for quick back up in N+1 Mode;
Beneficial price-performance ratio.
Monitoring of TV channels:
Monitoring a large number of TV channels within a single system;
Integration into the existing Fault Management System;
Configuration of monitoring settings for a particular channel.
SOLUTION
Implementing a transcoding system at the head-end station using a software transcoder Elecard CodecWorks, supporting quick back up in N+1 mode. Deployment of a monitoring system to control quality of input services and validate it after the transcoding modules.
RESULT
Video formats and bitrates of all channels comply to the single specification.
Smooth playback at end-user devices.
Improved subscribers' experience with Balticom services.
Unified video format helps to avoid TV-set or decoder reconfiguration when broadcast network parameters change.
SOLUTION IMPLEMENTATION
The transcoding solution consists of the main server based on Intel Xeon e3 supporting QuickSync technology and a server for quick back up in N+1 mode. The solution transcodes 100 SD and HD channels from MPEG-2 into AVC/H.264 format with unified bitrate and framerate. Additionally for some channels an audio stream is transcoded from AAC into MPEG-1.
The monitoring system comprises 2 Elecard Boro probes and a local server installed for collection and aggregation of the statistical data.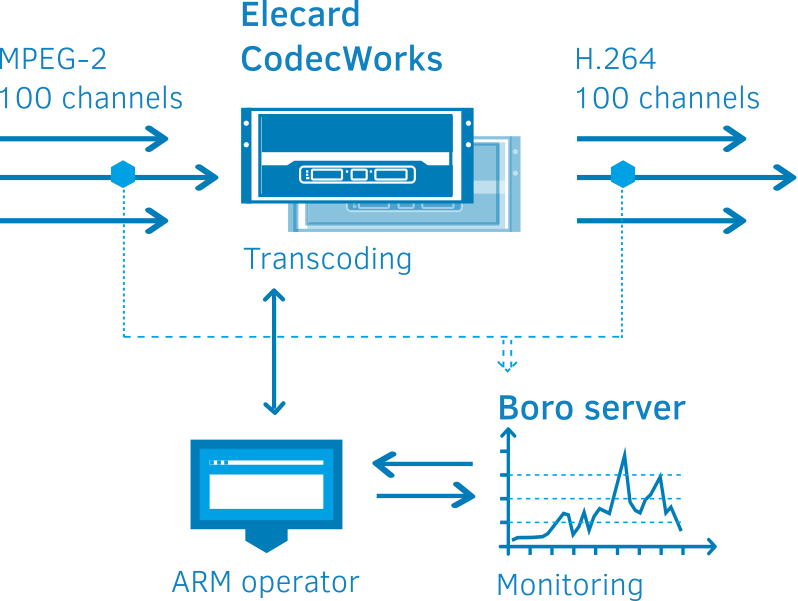 Feedback
"Our company chose Elecard transcoding solution as it offered high quality and performance for a reasonable price. The most striking advantage for us is the fact that it's a software-based application not depending much on hardware. It significantly simplifies operation routines (redundancy, backup, repair activities) and ensures flexible configuration of settings. We also purchased a monitoring solution from Elecard as we were satisfied with their team and really appreciated the level of their technical support while working on the previous project. A winning combination of top usability with a variety of nessessary settings proves that we made the right choice. "

Dmitry Beluaev, Chief of TV Department, Balticom