Quality monitoring of IPTV channels delivery in three cities
Quality monitoring of IPTV channels delivery in three cities
Customer: Amigo
Amigo is a digital television and fiber-optic internet provider in Belarus.
CUSTOMER'S TASK
Monitoring of IPTV channels condition at three remoted head-end stations.
REQUIREMENTS
TS and PID analysis
Real-time monitoring
Quick notifications about stream violations
Detailed and user-friendly errors layout
Interface providing full information for estimating IPTV channels condition
Compatibility with different equipment at head-ends
ELECARD SOLUTION
Installation of Boro probes at head-ends in three cities and monitoring of 120 multicast streams at each station.
RESULT
Real-time monitoring
Detailed data about streams for technical support engineers
Quick notification when an error occur
Improved quality control of provided services
Resource saving due to distributed probes and single server
SOLUTION IMPLEMENTATION
Boro probes were installed at head-ends in different cities. 120 channels are monitored at each station. 10 specialists such as administrators and technical support engineers use the system every day to monitor the streams' states.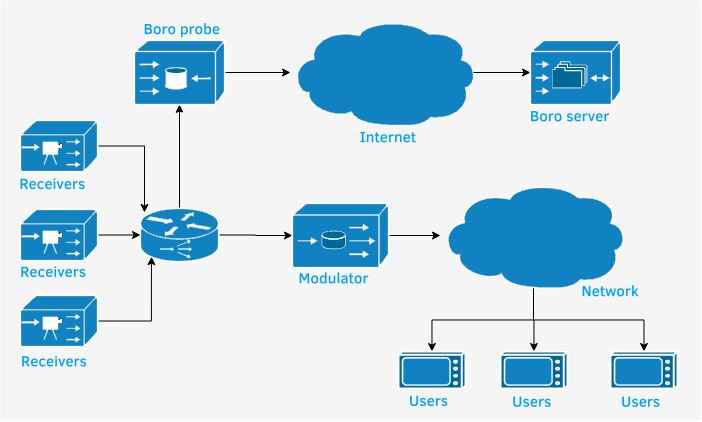 Feedback
"Implementation of the monitoring system was critical for maintaining the quality of provided services. We have chosen Elecard Boro due to Russian language support and moderate price. It took 2–3 days to install and set up the product, so integration was very easy. The Boro monitoring system is a powerful software solution. It offers a detailed and clear errors layout. I would like to particularly mention a very responsive technical support. We plan to scale up the system in the future to monitor HLS streams."

Sergei Yarets, CTO