Monitoring of the television system in shift camp
Monitoring of the television system in shift camp
Customer: Connecto
Connecto is a communication services provider for remote shift camps. The company specializes in satellite stations, communication system design and call routing.
CUSTOMER'S TASK
Continuous monitoring of the TV network of the shift camp for quality control of TV programs received by the head-end station from the satellite, transmission via radio relay and optical network, as well as for selective control of Smart TV connection ports.
ELECARD SOLUTION
Installation of Boro probes on the head-end station and throughout the network to monitor 100 channels.
RESULT
24/7 monitoring
Fast troubleshooting thanks to immediate notifications
Increased viewer loyalty and reduced number of complaints on broadcast quality
Possibility to easily scale the system when needed
Improved quality of communication services
SOLUTION IMPLEMENTATION
To ensure continuous monitoring, given unstable Internet connection, a stand-alone Boro server was installed within the local network. 100 probes are installed at the satellite receiving station, SMART TV server, at the points of stream transmission through the radio relay and optical network. Also, probes are deployed at the connection ports of SMART TVs. Events such as source loss, picture freeze, missing audio/video PID and others are monitored. Elecard Boro system is part of daily routine tools of Connecto shift engineers.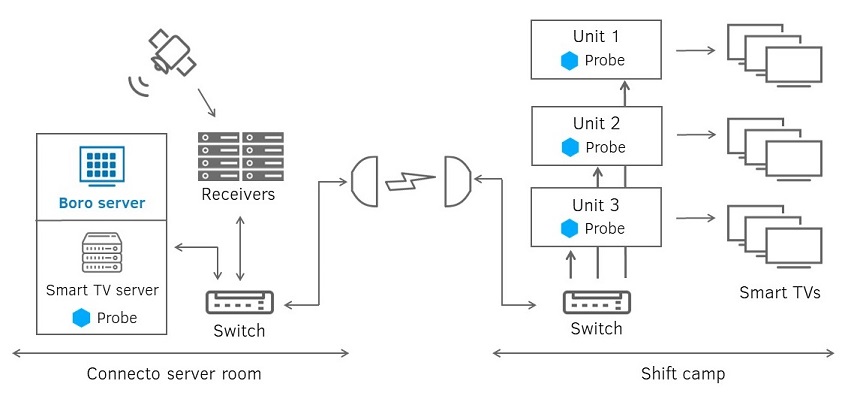 Feedback
"Elecard Boro was chosen due to easy deployment of remote probes, intuitive product interface and convenient notification system. The project from inception to commercial launch took 1 week. Elecard Boro is a great tool for distributed network monitoring. I especially liked the possibility to deploy additional probes in case the network is modified. The Elecard solution has allowed us to quickly react to the problems that emerged while operating the network at the shift camp. Thanks to instant alerts we identify the cause of failure and eliminate the problem before complaints appear".

Sergey Efimov, Leading Engineer, Connecto