Monitoring of defective SPTS and MPTS streams
Monitoring of defective SPTS and MPTS streams
Customer: Trytek
Communication operator in Vladimirskaya region providing Internet, digital TV, IP-telephony and video surveillance services.
CUSTOMER'S TASK
Monitoring of TV signal formed at head-end and multicast within the existing cable TV network.
ELECARD SOLUTION
Using Elecard Boro service to monitor the defective SPTS and MPTS streams at key nodes of TV signal forming for cable network.
Six probes were installed: one at the node where the main media stream is formed; five probes at intermediate communication nodes to monitor multimedia streams delivered via fibre optics.
RESULT
24/7 monitoring and problems localization
Improved quality of formed and injested TV signal
Increased loyalty and reduced customer churn
Positive feedbacks from subscribers due to quick resolution of issues
SOLUTION IMPLEMENTATION
Implementation of 24/7 monitoring of MPTS and SPTS streams to log and analyze errors from probes distributed over the area of TV signal delivery. At the central node, a probe is needed to monitor signals coming from the satellite or terrestrial networks for errors. Monitoring of multicast in backbone communications is required to localize errors connected with image loss and glitches. Previous monitoring system did not provide enough data.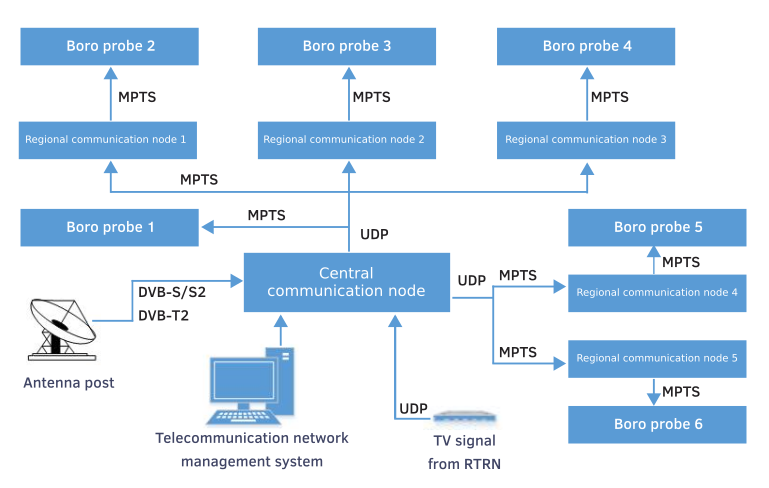 Feedback
"We have chosen Elecard solution because of distributed probes, detailed data gathered and wide range of notification methods. Integration was very fast and simple. It is also quite easy to use the product. Working together with the Elecard engineering team made it very easy to deploy the new product. Boro meets all of our wishes for the quality of stream analysis, simplicity in deployment and scalability."

Sergei Speranskii, specialist engineer