Monitoring of contribution to digital TV platforms
Monitoring of contribution to digital TV platforms
Customer: Telespazio Spa
Telespazio is a joint venture between Leonardo (67%) and Thales (33%) and one of the world's biggest suppliers of satellite solutions and services. Telespazio serves the market as service provider and large mission integrator, offering services for the upstream, midstream and downstream segments to help space missions achieve their goals.
CUSTOMER'S TASK
Real-time monitoring of 200 MPTS and SPTS delivered to the Telespazio's Digital TV Platforms.
REQUIREMENTS
Cost-effective solution
Possibility to distribute probes throughout the network
Scalability
Remote management
ELECARD SOLUTION
Installation of Boro probes in the contribution network for monitoring of 200 streams.
RESULT
Enhanced troubleshooting
Better channel contribution
Improved ability to respect SLA guarantees
Possibility to easy scale the solution when necessary
SOLUTION IMPLEMENTATION
The Boro Solution Server was integrated into the system, creating a virtual machine on a powerful workstation procured ad-hoc. The complete deployment of the server and the probes took one week. 200 streams are monitored using 6 probes, distributed over the network. Elecard engineers implemented a special feature that allows saving thumbnails and sending them to the storage.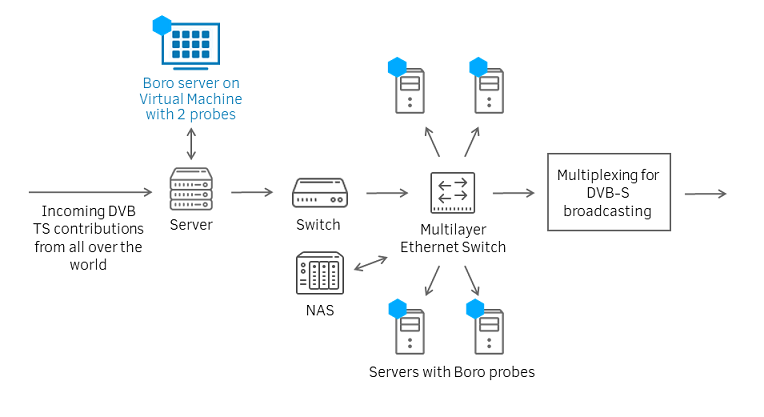 Feedback
"We have chosen Elecard Boro because of suitable licensing model and the possibility to distribute multiple probes in the network. Possibility to record video signals provided by the contribution network has improved troubleshooting process. Elecard Boro allowed us to improve our ability to guarantee SLA. Elecard engineers implemented the special feature for us that allowed archiving thumbnails on external storage which was very helpful. In the future we plan to increase the number of probes and involve more employees in a project. Elecard sales managers and engineers have been kindly available to help us despite some particular hitches due to the company nature."

Andrea Casella, TV&Radio Satellite Broadcasting Engineering Assistant