Monitoring and analysis of multicast streams
Monitoring and analysis of multicast streams
Customer: Softvideo RPC
Softvideo RPC provides communication services such as Internet, TV, telephony, and door entry systems in the city of Mytishchi.
CUSTOMER'S TASK
Troubleshooting the issues of multicast stream passing through a transit provider.
ELECARD SOLUTION
Extension of an existing monitoring system: adding Elecard Boro at the input to monitor multicast streams received from two content providers.
RESULT
Technical analysis of stream and statistics help identify and fix problems at early stages of the stream receipt.
Detection and elimination of some minor and seldom issues that bothered technicians and prevented some input streams from being included into the first line.
Higher quality of signal preparation that allows setting priorities between backups and contributes to subscribers' satisfaction with the signal stability.
SOLUTION IMPLEMENTATION
Elecard probes are installed at the head-end station input. Boro service was used for monitoring of 50 streams for 11 months, then the local server was installed within the Softvideo networks.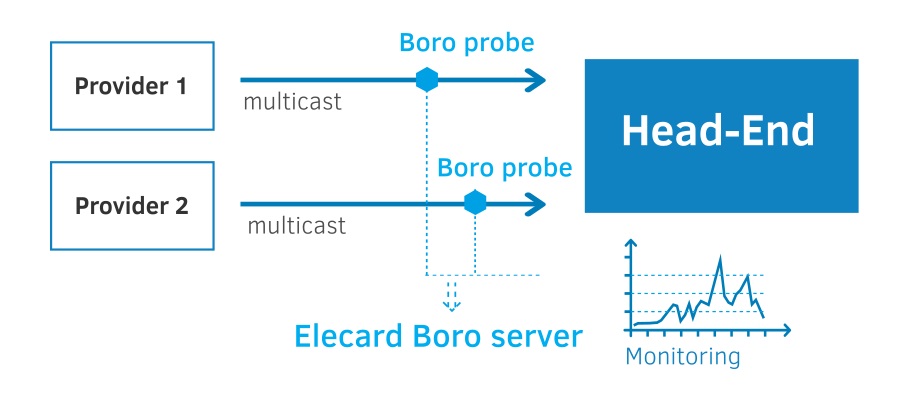 Feedback
"Integration of Elecard Boro with our system was quick and simple - it was as easy as installing an app on the phone.

In addition, we would like to mention such advantages as low load on PC where the probe is installed and the web-version that is convinient for management and viewing.


We plan to expand the control system for multicast streams at different stages of mixing and transmission within the head-end station. "

Artem Snegovskoy, Deputy chief engineer for IT