Integration of monitoring into IP-based control system
Integration of monitoring into IP-based control system
Customer: Beijing Joint-System
Joint-System is an integrator providing solutions and services in broadcast industry. Joint-System offers such solutions as all-media operation support platform, unified digital TV/IPTV broadcast and network management system, IPTV regulating compliance and quality assurance system.
CUSTOMER'S TASK
To complete the project of developing a control middleware for Guizhou IPTV Broadcast Center, Joint-System needed a monitoring system to analyze video quality on the out ports managed by Joint-System's software.
ELECARD SOLUTION
Integration of Elecard Boro into the customer's IP-based broadcast video control system.
RESULT
Improved quality of provided services thanks to real-time monitoring
Instant notification when an error occurs
Solution scalability without additional hardware
Cost savings because of reducing the number of engineers involved
Possibility to quickly deploy a probe at any network point
Quick and easy generation of reports for operators
SOLUTION IMPLEMENTATION
Integration of Elecard Boro to the customer's IP-based broadcast video control system. Two probes were installed to monitor 180 channels. One probe is used to monitor all channels at the input point, the other is used as a mobile probe to analyze streams at different points of the system. QoS parameters and video thumbnails are monitored to manage video processing workflows and provide qualified feedbacks to operators.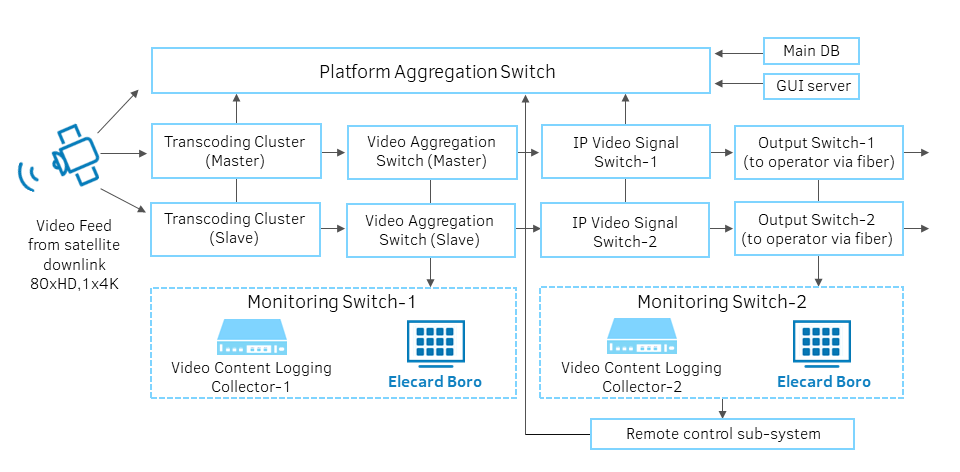 Feedback
"Comparing with other solutions, Elecard Boro probing technology is the most flexible to deploy. Elecard Boro is easy to install at any point of video signal path. Now end user can manage monitoring and video service using one support team and ensure good quality of fast growing IP video services."

Tom Sun, Beijing Joint-System VP