Monitoring of input streams
Monitoring of input streams
Customer: Ivanteyevskie kabelnye seti
Provider of cable TV services in Ivanteyevka since 2003.
CUSTOMER'S TASK
Monitoring of input SPTS streams received from TV signal providers.
ELECARD SOLUTION
Using Elecard Boro service for quality monitoring of input streams from multicast traffic 24/7. Fault detection and report generation for signal providers to fix errors and fine tune broadcast equipment.
RESULT
Detecting and resolving channel issues
Settlement of disputes with providers
Increase of ARPU value (Average Revenue Per User)
Improvement of TV signal quality
Subscriber base growth
SOLUTION IMPLEMENTATION
Elecard probes are installed at the head-end station input for monitoring of streams received from TV signal providers.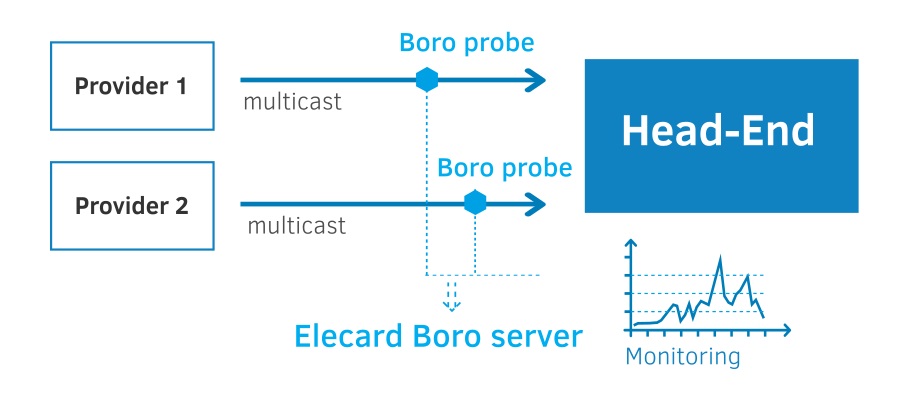 Feedback
"Elecard Boro integration was very simple. The system is mobile and extremely fast in deployment.

This elegant and universal solution is reasonably priced and it is highly scalable. It allows monitoring the whole signal delivery chain down to subscribers' devices.

We use the product in everyday routines. Boro gives great support in dispute settlement with content providers. Now we localize and solve the problems faster. Quick troubleshooting is crucial for us as we provide linear TV, so any delay affects negatively our subscribers.

With Elecard product, we have chosen content providers meet the requirements both for primary signal reception and for stream redundancy. We have found and fixed all our signal distribution issues.

We are planning to transfer monitoring from cloud to our own server and to organize the analysis of all TV streams including internal ones."

Dmitry Sovenko, System administrator