Input stream control at head-end stations
Input stream control at head-end stations
Customer: "Cosmos TV"
One of the largest telecommunication operators. Provides digital and analog TV services, high-speed Internet, VoIP and video surveillance services.
TASK
Set up quality monitoring for TV channels at head-end input: automation of monitoring and control over a large number of TV channels; instant notifications when any error or malfunction is detected.
SOLUTION
Deployment of a monitoring system for 155 input channels at head-end station from scratch. The server is installed in the local network to collect and aggregate statistics.
RESULT
Timely and detailed notifications about problem/malfunction
Fast analysis of errors
Quality control over TV broadcasting
Reduced signal loss and video freeze periods
Streamlined engineering routines
Reduced impact of human errors on video control
SOLUTION IMPLEMENTATION
Solution is based on one probe which analyzes UDP streams from outputs of satellite receivers. A probe monitors 155 IP/UDP streams. In case such errors as Bad Source, Video Freeze, PID Error (Video, Audio), Max Bitrate are registered, notifications are generated and sent to an engineer on duty who analyzes them and takes actions according to the procedures.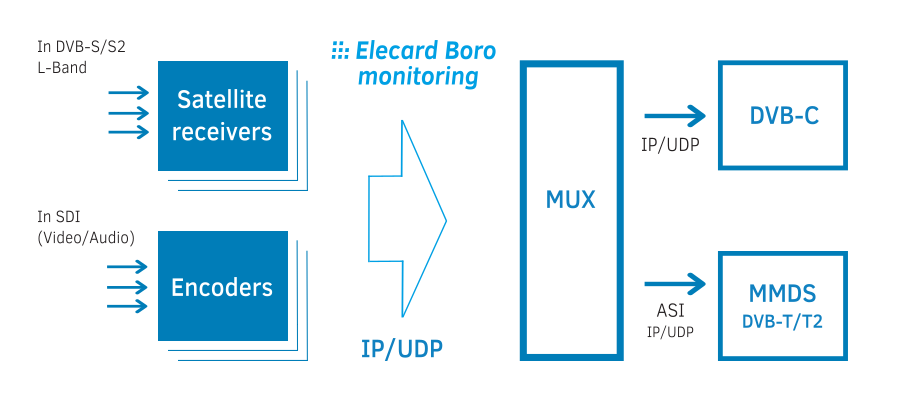 Feedback
"Elecard Boro solves a task of effective TV monitoring with sufficient functionality at a reasonable price. Integration process was fast and did not require significant efforts. It is important to mention that the interface of the product implemented as a web application is very convenient. We consider our collaboration to be fruitful and think about deploying additional probes after multiplexer and streamers."

Artem Kurgun, Head of the Department of Network and plarform management