Video quality analysis for Automotive Surround View System
Video quality analysis for Automotive Surround View System
Customer: Ficosa
Ficosa is top-tier global provider devoted to the research, development, manufacturing, and marketing of advanced technology vision, safety, connectivity, and efficiency systems for the motor and mobility sectors.
CUSTOMER'S TASK
Analyze the quality of video signal transmission over Ethernet in the Surround View system developed for various automotive companies.
ELECARD SOLUTION
Installation of Elecard StreamEye Studio tools to perform deep analysis of streams and find violations.
RESULT
Enhanced validation thanks to wide range of analyzed parameters
Quick start due to intuitive user interface
Improved quality of provided services
Fast integration into analysis process
SOLUTION IMPLEMENTATION
StreamEye Studio tools are used to test data transmission over the Ethernet between the Electronic Control Unit (ECU) and 4 cameras that compose the Surround View System.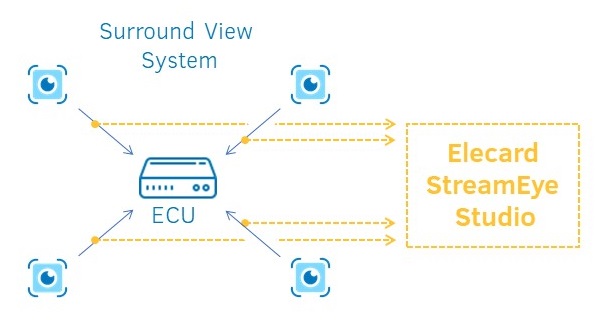 Feedback
"We hadn't a tool to perform the analysis of ethernet transfer and it resulted in a bad behavior of our system under some conditions. Elecard provides a very good solution for this. The learning process was relatively easy for us, because StreamEye Studio apps are similar to other tools but offering additional functionalities we missed before. It is very intuitive and offers a lot of options to be compatible with other analyzing tools we currently use. StreamEye Studio allowed us to advance the detection of potential bugs of the customer validation phase. We revealed over 5 potential blocking issues previously undetected with other tools, and it helped us a lot to improve the quality of our validations."

Daniel Jiménez Gómez, Test Manager