Teach students the fundamentals of video coding concepts at Beuth University of Applied Sciences
Teach students the fundamentals of video coding concepts at Beuth University of Applied Sciences
Customer: Beuth University of Applied Sciences, Berlin
Beuth University of Applied Sciences Berlin is one of Germany's largest state universities of applied sciences. With a wide range of forward-looking degree courses and a staff of highly qualified specialists, Beuth University encourages the career opportunities of all prospective and current students, regardless of their social background.
CUSTOMER'S TASK
Teach students the fundamentals of coding concepts and help them to understand the functionality of modern encoding standards.
ELECARD SOLUTION
Illustration of the coding concepts using the real video data and visualization the structure of the encoded bit streams by means of professional toolset Elecard StreamEye Studio involved in the learning process.
RESULT
Learning process that enables students to experience the effects of playing around with the encoder parameters and analyze these effects using well established engineering measures.
IMPLEMENTATION
The above mentioned tasks are greatly simplified be Elecard StreamEye and the tools included in the Studio version.
Example 1
The following figure taken from the StreamEye decoded picture view shows how students can visualize both forward and backward prediction motion vectors, different types of macro blocks depending on content, and different transform block sizes in an H.264 coded video stream. Colors and shapes are used to provide an initial overview on these aspects. More details can be taken from the block information available in a separate window.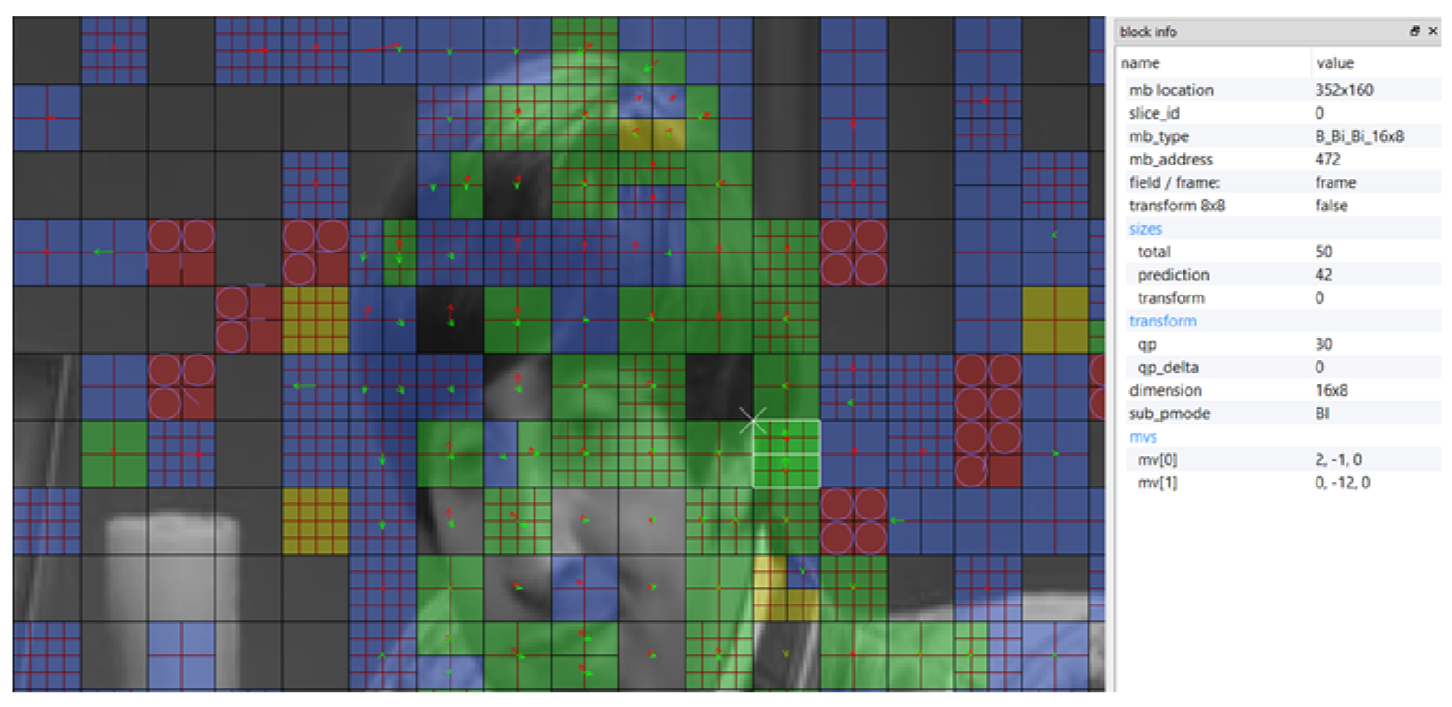 Example 2
To compare different encoder settings, the bar chart for the video stream shows the students information about the bit allocation to the different types of frames and allows an initial estimation of the video quality using the estimated PSNR as a measure. More detailed quality measurements can be carried out using the Elecard Video Quality Estimator, which is part of the Studio.

Feedback
"Thanks to Elecard developers for a great tool making it easier to understand the art of video compression. The above-mentioned tasks are greatly simplified by Elecard StreamEye and the tools included in the Studio version."

Dr. Marcus Purat, professor