Low Latency encoding at Football World Cup 2018
Low Latency encoding at Football World Cup 2018
Customer: 12 stadiums of FIFA World Cup 2018
Stadiums - organizers of the FIFA contests in 11 cities of Russian Federation.
CUSTOMER'S TASK
Setting up live video streaming of football matches of FIFA World Cup 2018 within the stadiums with a minimum possible latency.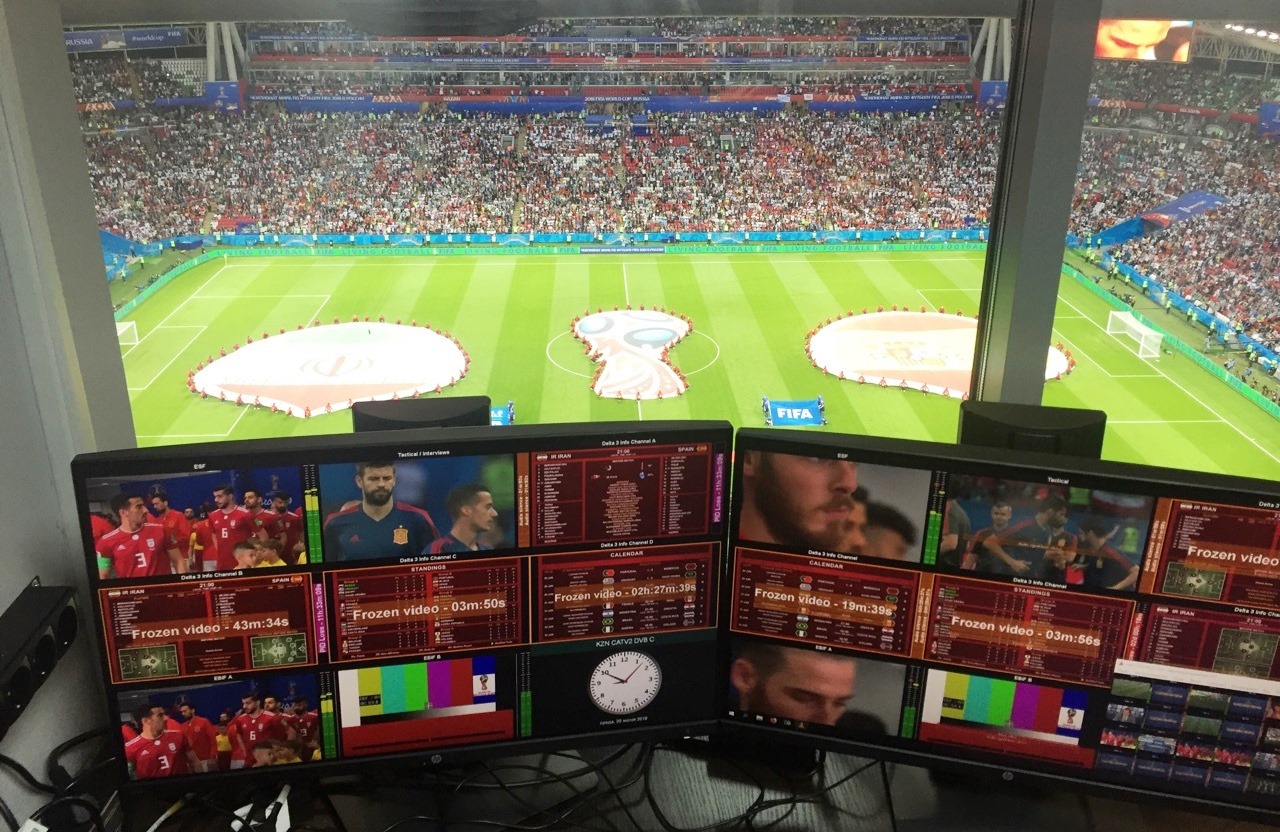 ELECARD SOLUTION
Development of hardware and software solution for encoding of SDI signals and further broadcasting with a minimum possible latency.
RESULT
Digital TV broadcasting of all the football matches at FIFA World Cup 2018
Delivery of TV signals from SDI-HD to the end-users with 220 ms latency:

12 stadiums
21 CATV-1 channels (IPTV and DVB-C) delivered at each stadium to 280 TV sets of Media center and different zones of the stadium
8 CATV-2 channels (DVB-C) delivered at each stadium to 300 TV sets in commentators area, mixed zone and broadcast center with minimum possible latency

Monitoring of SDI-HD input channels and DVB-C output channels
Elecard solution meets high standard requirements of the international FIFA Organizing Committee
World Cup 2018 organizing committee highly appreciated the stable work of AMT Group and Elecard and the strong level of technical competence of their team members
SOLUTION IMPLEMENTATION
Implementation of smooth FullHD 1980*1080 encoding of studio SDI-HD signals with further DVB-C modulation. Configuration of the encoding schemes using redundancy mode 1+1. Monitoring of the encoding process.
Broadcasting video content in a real-time mode to TV sets of the сommentators and viewers of the football matches within the stadiums with a 220 ms latency.

Feedback
"Our team is happy to make contribution to organizing a fabulous football event – World Cup 2018. We plan to work hard to further improve our system for content delivery and broadcasting to ensure breath-catching viewing experience and make sure the delay is the lowest possible."

Nikolay Milovanov, Elecard CEO