IPTV and OTT broadcasting of federal TV channels in 30 Russian regions
IPTV and OTT broadcasting of federal TV channels in 30 Russian regions
Customer: Wifire
Wifire (NetByNet Holding) is a federal high-speed communication operator, a subsidiary of MegaFon. It offers its clients such services as residential Internet and digital television in the seven federal districts of Russia.
CUSTOMER'S TASK
Implementation of IPTV and OTT broadcasting of federal multiplexes in 30 regions of Russia.
REQUIREMENTS
WebDAV support
Redundancy of input multi cast streams
HLS encryption
Multi audio support in HLS
WebVTT subtitles support
Centralized control system
ELECARD SOLUTION
Development and implementation of a hardware and software system for receiving federal and local TV channels and content preparation for IPTV and OTT broadcasting based on the transcoder Elecard CodecWorks in each of 30 regions. The solution includes input stream redundancy, HLS encryption, and centralized control system.
RESULT
Implementation of transcoding system in 30 regions
Input stream redundancy ensures broadcast stability
Solution integration, exclusive technical support onsite
SOLUTION IMPLEMENTATION
The turn-key system is based on Intel Xeon E3 servers with QuickSync technology support. Two federal multiplexes are received, transcoded into AVC at 3 bitrates and packetized into HLS to deliver OTT service. Within the project scope, Elecard integrated Verimatrix DRM system with CodecWorks that allowed HLS encryption. The solution includes input stream redundancy and a centralized control system.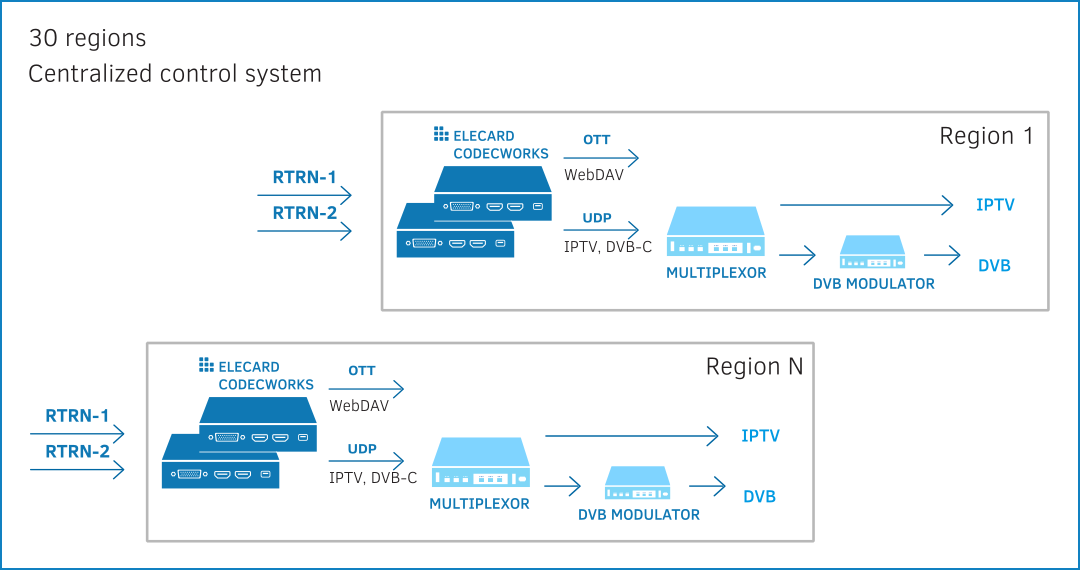 Feedback
"We were set a task of providing our subscribers with the multiplexed stream including local programs. Elecard engineers have implemented a turn-key solution that guarantees uninterrupted broadcasting as well as support of subtitles in OTT.

CodecWorks is easy to manage for novices, white advanced users, it opens up many additional possibilities. Thank you, Elecard!"

Nikita Semichev, Head of Wifire TV platform operation department