HD signal encoding for various Telco operators
HD signal encoding for various Telco operators
Customer: 3ABN Russia
3ABN Russia is a Russian channel of The Three Angels Broadcasting Network operating in Nizhny Novgorod. 3ABN is a Christian television and radio network which broadcasts religious and health-oriented programming.
CUSTOMER'S TASK
HD signal encoding to meet different technical requirements:
UDP SD AVC for satellite contribution;
UDP HD AVC for distribution to partners over cable networks;
HLS SD/HD

for

distribution to partners over Internet

;
HLS (3 profiles) for adaptive streaming via Internet.
SOLUTION
Implementation of transcoding system based on the Elecard CodecWorks transcoder at the head-end.
RESULT
Implementation of a single solution for encoding to all necessary broadcasting formats
Robust broadcasting due to redundancy of all system components
Cost-effectiveness and space saving: encoding in 1U server
Solution integration, exclusive technical support
SOLUTION IMPLEMENTATION
Deployment of the encoding solution based on Elecard CodecWorks with H.264/AVC support and system redundancy. The solution provides HD signal transcoding to all necessary broadcasting formats. After the system evaluation, capture cards and hardware were recommended to support Quick Sync encoding technology.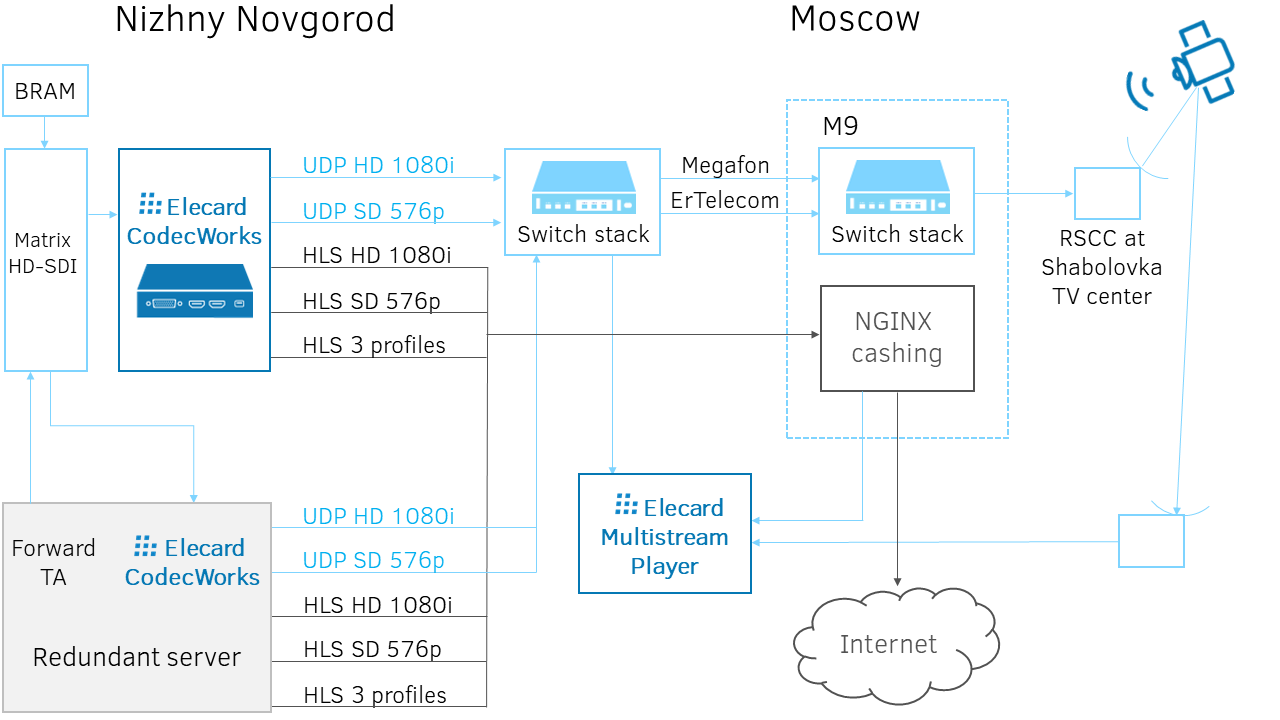 Feedback
"We have been working on the project for a year and a half now. Elecard specialists helped us to select capture cards and hardware for encoding with Quick Sync technology. CodecWorks allowed us to achieve our goal: now the system is transmitting the signal to satellite and the channel is broadcasted via Internet. We have chosen Elecard for its universality: CodecWorks is an all-in-one solution. Elecard software allows us to encode signal to all necessary formats and to combine redundant server and redundant encoder in a single unit. I would like to note that Elecard support engineers are very friendly and always ready to help."

Alexey Bochkarev, chief engineer