Elecard Stream Analyzer is a professional tool for syntax analysis of encoded media streams and transport stream validation

IN-DEPTH ANALYSIS
Comprehensive analysis of numerous video parameters of Transport, System and Program streams, MP4/MOV, MKV/WebM, AVI, FLV, IVF, HEIC files
AUTOMATION
Command Line Interface for efficient laboratory routines
SIMPLE TO USE GUI
User friendly configurable interface, HEX viewer
TEAM WORK ENABLED
Sharing comments between application instances
Key Features
HDR format identification and representation of metadata structure. HDR10 Metadata check
PCR, PTS, DTS Timestamps analysis of multiplexed video and audio streams
Transport stream validation against ETSI TR 101 290 standard, priority 1, 2, 3 (For detection in live streams check Boro)
Presentation of PSI/SI tables, EPG, SCTE-35, DVB Subtitles, HbbTV for SPTS/MPTS
Displaying information about audio/video structure syntaxis
Automation, batch execution via Command Line Interface
Synchronization between applications of Elecard StreamEye Studio set (Binding mode)
Structure of MP4/MOV, MKV/WebM, AVI, FLV, IVF, HEIC containers
Overhead calculation in Transport and Program Streams
Selection of the data portion for further saving
Sharing comments between application instances and/or applications of Elecard StreamEye Studio set
Must-have product for professionals
Network owners

Make sure that your Cable, Satellite, IP, CDN network operates properly and TS gets through without packet loss

Software and turnkey product vendors

Fast and accurate check for errors in multiplexers and demultiplexers

System integrators

Validation tool helping to easy spot the problems in the Transport Stream

Professors & students

Visualisation of multiplexing techniques

Media storage device vendors

Check stream integrity after stress tests.
Stream Analyzer is a part of StreamEye Studio

Elecard StreamEye Studio includes 5 separate stand-alone applications and command line tools for all-around video analysis.
Software and Hardware specifications
Supported media containers
MPEG-1 System Stream

MPEG-2 Program Stream

MPEG-2 Transport Stream

MP4/MOV file containers

MKV/WebM file containers

AVI file container

IVF (in case of VP9 and AV1)

FLV container

HEIC container
Supported video codecs
MPEG 1/2 Video stream
MPEG-4 Video stream
VC-1 Video stream
AVC/H.264 Video stream
HEVC/H.265 Video stream
VP9 Video stream
AV1 Video stream
VVC/H.266 Video stream
AVS3 Video stream
Supported audio formats
MPEG-1/2 Audio Layer 1/2/3
Dolby Digital Audio (ATSC A-52)
AAC (Advanced Audio Coding)
Software Requirements
Windows® 7/8/10/11 (64-bit)
Mac OS 10.13 High Sierra - Mac OS 13 Ventura
Ubuntu 16.04, 18.04, 20.04, 22.04 x64
CentOS 7.6 x86_64
​
Follow this link to find the MPEG-2, AVC/H.264, HEVC/H.265, VP9, AV1, VVC/H.266, AVS3 video samples and estimate how Stream Analyzer work with it.
Related products
Analysis of the stream structure and down to macroblock structure for inspection of codec parameters. Video quality test software.
Elecard StreamEye Studio is a set of powerful software tools for video quality analysis designed for professional use in video compression, processing, communication and streaming media industries
IPTV Monitoring
Software solution for UDP, RTP, HTTP, HLS, DASH and SRT streams quality control and measurement of QoS and QoE parameters in all segments of distributed networks. Live stream monitoring.
Resources
User Guide

Datasheet

Command line tool manual
Video Tutorials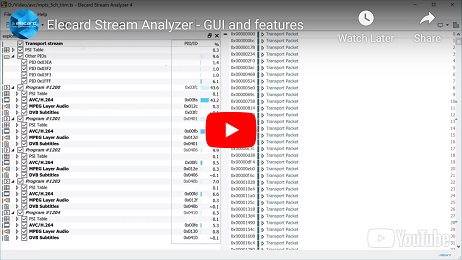 Learn more about Stream Analyzer GUI and functionality
Testimonial
All testimonials
News & Events
Elecard offers you to try a new version of Elecard StreamEye Studio powered by MPEG-DASH MPD support which makes it easy to navigate the process of video segments' analysis
Elecard StreamEye Studio tools now support AVS3 coding standard popular in China and South East Asian countries.
Our Customers
We are proud to be bringing our multimedia technologies knowledge and expertise to more than 9K companies in the world.