Monitoring
Probo SDK
Software development kit designed for implementation of distributed QoS and QoE monitoring systems intended for ongoing control over transport streams and encoded content quality.
Scale up your monitoring system
Easy embedding of software probes within your encoder/transcoder/muxer or existing Fault Management System
Create your own custom-configured solution
Powerful set of tools and components to build a reliable Fault Management System on your own
QoS measurement
Measure if the network can provide better service to selected network traffic over various underlying technologies
QoE measurement
Check how you can tune your streaming to improve the overall acceptability of your service, as perceived subjectively by the end-user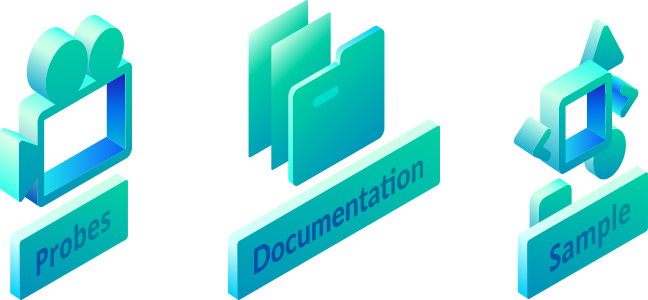 Powerful toolkit
Elecard Probo SDK package comprises: software probes, server sample and documentation. QoS and QoE software probes can be installed at any point of delivery network; they detect stream errors and send all information to the aggregation server. A simple sample of the server software illustrates inter-application communication. Probo SDK API describes the client-server application programming interface in detail which helps to develop the system meeting any requirements.
Tasks for Elecard Probo SDK
Build a reliable Fault Management System on your own

Scale up your distributed monitoring system

Embed QoS or QoE module into encoder/transcoder/muxer

Embed QoS or QoE module into Players/STB/mobile app and playout systems

Create portable probes for field technicians

Add more monitoring parameters into your Fault Management System

Stir in QoS and QoE technology into products where video quality is essential
Monitored parameters

QoS

ETSI TR 101 290 (priority 1)

Clock Continuity

Signal Loss / Bad Source

Profile / Level Conformance

Download / Multicast / Payload Rate

Min / Max / Average Bitrate

Invalid Elementary Stream Detection

PSI / PCR Display & Change Detection

ES Video Information Change Detection

Multiple Multicast Sources Detection

Maximum Inter-Packet Arrival Time (IAT)

Encryption Map Change Detection

HLS Warnings, 23 alarms and events

TOS / DSCP Change Detection

TTL Change Detection

Source / Destination MAC Detection

QoE

Signal Loss / Bad Source

Video Freeze

Estimated PSNR

SCTE35 Extraction

Closed Captions Extraction

Thumbnails capture by events and time interval

Stream Record by request and by events
Advantages

Easy integration

Elecard software probes are designed to be embedded into literally any digital video appliance to collect Quality of Service (QoS) and Quality of Experience (QoE) performance parameters.

Universal solution

Probes can be installed either in separate segments of the distributed networks, at headend stations and/or within the video encoding, muxing,monitoring, video distribution and network products to gather video specific data for further analysis and statistics display on a customer Fault Management System.

Cross-platform

Elecard Probo operates under Windows, Windows Server, Linux (Unix), x.86 platform. ARM / DSP / STB upon request.

Live demo of cloud monitoring system
See live sample implementation of Elecard Probing technology
Basic use cases and associated features
Stream structure and headers

Program-specific information table with statistical data for each PID

Video information table with video stream headers and average bitrate

Conformance between video stream headers (profile/level values) and actual stream parameters

Quality of the encoded video and stream integrity

ETSI TR 101 290 (Priority 1)

Clock Continuity (ETSI TR 101 290 Second priority 2.5 PTS_error)

Video freeze

Estimated PSNR

OTT warnings

Playlist validation

Playlist parameters validation and track changes

Bitrate change

Download rate and segment size validation

Data download errors

Network degradation

Signal loss

Continuity Counter

Packet jitter (Maximum IAT)

Bitrate overview

Payload rate

Download rate (http/HLS)

Multicast rate

Commercials detection, ad duration validation

SCTE35 (Digital Program Insertion Cueing Message)

Thumbnails
Software and Hardware specifications
Supported formats and protocols
Protocols:
UDP, HTTP, HLS; File (TS)
Video:
MPEG-2, AVC/H.264, HEVC/H.265
Transport:
MPEG-2 TS (SPTS/MPTS)
System Requirements
Probo probe is provided for Intel x86/x64 for the following OS:
Windows XP SP3 and higher
Linux libc 2.11 and higher
Network traffic
Outgoing from Probo to server:
Within the range 10-100 Kb/s per one analyzed stream
Incoming to Probo from server:
Approximately equal to 10-20 Kb/s per probe.
Related products
Analysis of the stream structure and down to macroblock structure for inspection of codec parameters. Video quality test software.
Mosaic view player designed for real time visual control of video streams quality and audio signal level
Multifunctional cloud service designed for quality control of the video streams which perfectly serves OTT and IPTV broadcasting, DVB content preparation and video surveillance systems.
News & Events
Try Elecard Probo SDK v.1.0 with extended possibilities for analyzing all profiles of multi bitrate HLS service and optimized performance.
Elecard welcomes you to visit CSTB 2018 and evaluate our low delay encoding solution and a new Linux version of CodecWorks Encoder.