Quality control of multicast streams
Quality control of multicast streams
Customer: "Ostankino Telecom"
"Ostankino Telecom" is a telecommunication company delivering professional TV services - playout services, localization of TV channels, creation of regional customized contents, broadcast servers rental services, TV signal delivery, Internet-broadcasting and OTT.
CUSTOMER'S TASK
Quality control of input and output multicast streams; stream error detection for further fixation.
ELECARD SOLUTION
Integration of input and output multicast monitoring with Elecard Boro into existing Fault Management System.
RESULT
Location and type of multicast transport errors are defined: input/output errors are detected, problem segments and its connectivity when passing through the switchers are localized.
Quicker fixation of malfunctions.
Higher broadcast quality after fault equipment tuning.
Sound instrumental evidence of TS quality for vendors and consumers.
Reduced labor costs for violation detection.
SOLUTION IMPLEMENTATION
The probes were implemented at the head-end broadcasting point with 16 UDP and 4 HLS/RTP streams being monitored and at remote nodes. Notifications are delivered via email. Additionally, portable probes are used.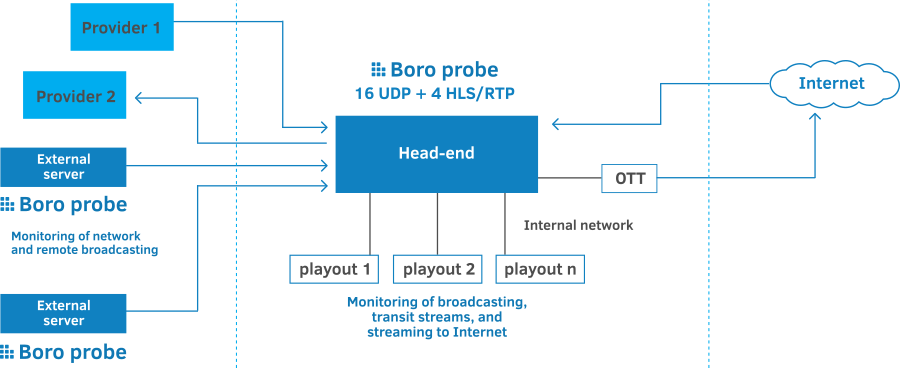 Feedback
"We were looking for centralized quality control over multicast streams to quickly detect malfunctions and promptly fix them. Several features were essential for us: multichannelling multiplexing support, real-time stream monitoring and logging statistics for each multicast within a specified period. Elecard solution stands out for its high self-descriptiveness, easy setup and fast deployment."

Sergey Panfilov, Technical Director